Library
The Mt. Vernon Unitarian Universalist Fellowship is home to a small
library collection located in the fellowship's building. The collection
has been made possible through the generous donation of new and gently
used materials, made by MVUUF members and friends. The library mainly
consists of print materials, with a small assortment of VHS tapes, DVDs,
CDs, and audio cassettes. As of fall 2011, the library contains more
than 600 titles on a variety of diverse topics, including: spirituality,
scripture, world religions, philosophy, psychology, science, social
science, and fiction.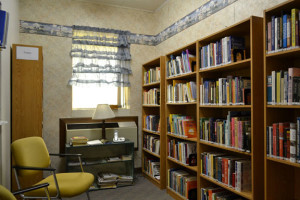 Materials are available for check-out by MVUUF
members and regular attendees by the honor system; a sign-out sheet is
located in the library.
The collection is searchable through an online
catalog located on LibraryThing.com
www.librarything.com/catalog/MVUUF
Copyright Mt. Vernon Unitarian Universalist Fellowship